Recycling Services for Oil, Oil Filters & Antifreeze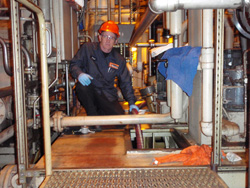 Used Filter Removal – Waste Oil Solutions provides U.S. DOT regulation drums which can be picked up and replaced according to your scheduled needs.

With today's strict environmental regulations, any business that generates used oil or other waste products must use an environmental company that properly disposes of these products. Because generators of used oil are legally responsible for waste products from "cradle to grave", using the wrong environmental company could lead to serious costs and liability. We will come to your location, at your convenience to remove your used oil supplies.
Used automotive products such as used oil filters, used oil absorbents and used antifreeze can present your company with many potential liabilities if disposed of improperly. Waste Oil Solutions has developed programs to minimize these liabilities and recycle each of these used products.

Oil Recycling - We will collect your used motor oil, hydraulic oil, transmission fluid, fuel oil or unused new oil. Our drivers perform a dexsil test on site to determine whether or not your oil is classified as non-hazardous.

Oil Filter Recycling – Waste Oil Solutions provides drums to your site and picks up on a regularly scheduled basis or as needed. The used filters are drained and crushed to remove any trapped oil and reduce volume. The oil removed during crushing is recycled and the metal and filter paper are pressed into solid blocks. You will be given all the necessary documents to satisfy state and local government to insure that your filters were disposed of properly.

Anti-Freeze Recycling – Waste Oil Solutions offers regularly scheduled as well as same day pick up based on volume. The used antifreeze is transported to our facility for processing.