Tank & Pipeline Abandonment Services/Tank Removal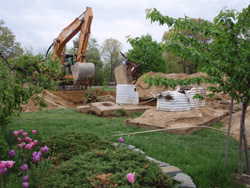 Waste Oil Solutions has the ability to remove any size tank Waste Oil Solutions has worked with commercial and residential clients, utility companies, local fuel oil companies, and Insurance companies to reduce the risk of underground fuel oil tank or pipeline leakage. We will provide you with the proper documentation that is required by state and local government.
The process involves removing any remaining fuel from the tank. All lines to the tank are cut and plugged. If the tank is to be abandoned in place a hole is cut in the tank and filled with inert materials including sand, foam and slurry.
RESIDENTIAL
ABOVE-GROUND/BASEMENT REMOVAL
Above-ground or basement tanks which are no longer in use can be pumped clean of any residual oil and picked up by our crew.
BURIED REMOVAL
The tank is excavated, leaving some extra room on all sides to make removal easier. The tank is then cut open and pumped out with a vacuum truck. A crew of highly trained tank cleaners then enter the tank and clean the walls and floor to prevent any remaining oil from spilling out. Finally, the tank is removed from its grave and disposed at a licensed facility. The excavation is then filled in with clean fill.
FOAM ABANDONMENT
Buried tanks that are no longer in use can also be filled with an inert material and left in place. The simplest and most cost-effective type of fill is foam. No damage is done to your lawn because the tank can be filled directly through the fill pipe. First, the tank is pumped clean and the waste oil is taken to a licensed disposal facility. Next, Speedy Dry is placed in the tank to absorb the sludge clinging to the walls and floor. Finally, foam is pumped into the tank and the fill and vent pipes are cut below grade.
SAND ABANDONMENT
Sand abandonments are necessary in areas where the water table is high. The top of the tank is excavated and cut open. The tank is then pumped clean of residual oil with a vacuum truck and Speedy Dry is added. Finally, the tank is filled with sand and the excavation is filled in.
SLURRY
Slurry, or tank abandonment using cement, is necessary for tanks over 1,100 gallons that must remain in place. The process is the same as that of a sand abandonment, except that cement is pumped into the tank instead of sand. Slurry is usually not necessary for residential tanks.
COMMERCIAL
The services associated with the Tank and Pipeline Abandonment are as follows:
Site Investigation and Characterization
Geoprobe Investigations
Oil Spill Remediation
Treatment Systems for Aquifers and Soils
Environmental Restoration
Monitoring of Wells and Recovery Systems
Oil Storage Tank Closures
Small Diameter Natural Gas Pipeline Abandonment